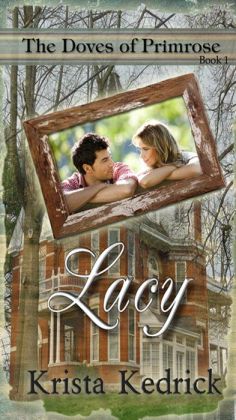 Lacy (The Doves of Primrose, Book 1)




By: Krista Kedrick




Series: The Doves of Primrose #1




Publisher:

Cowboy Capital Productions

Publication date:

6/12/2013

Genre: Contemporary Western Romance



Lacy Weston-- or is it Campbell?, hell her husband took off so fast he may as well take his name with him-- is trying to run the historic family bed and breakfast out in the middle of the prairie while coping with her husband's desertion, attempting to keep up with her two best friends and, oh yeah, the movie production that has landed in the middle of The Dove House, bringing former rodeo champion turned famous actor and Lacy's old flame, Kyle McClintock, with it.
Kyle McClintock is back in Primrose to shoot his latest western blockbuster and to see if the passion he and Lacy Weston had so many years ago could be reclaimed. He may have had ulterior motives when requesting his hometown for the set but he may get more than he bargained for. Strange happenings, hot tempers and Indian summer nights may prove too much for this cowboy. Nobody ever said it was easy loving a Weston.
My Thoughts:
This first story in The Doves of Primrose series starts off with Lacy Weston. Lacy has had it pretty rough over the past eights years--heartbreak, loss, and humiliation. You would think with all that devastation that she would be locked away in her room hiding from the world in the safety of her bed. Nope! Instead she takes on the task of running her family's historic bed and breakfast and adds to her level of stress by allowing a film crew to take over the place in order to shoot a big western blockbuster. And did I mention that the lead male actor of the big western blockbuster is the man who broke her heart eight years ago? When you add Kyle McClintock into the picture, poor Lacy's stress level pretty much goes through the roof. And as much as she tries to avoid Kyle, she soon finds that to be an impossible task. Close quarters and even closer working conditions lead to a trip down memory lane, secrets revealed, and a whole lotta crazy that I never expected.
One of the things I loved most about this book was Lacy's friendship with Emmylou and Scarlet. They have that deep, known each other since kindergarten kind of friendship. I loved how understanding they were and how they were ready to back each other up no matter what the situation was. And they had be cracking up on more than one occasion throughout the entire novel. One of my favorite scenes with the three of them is when they are all sitting on the front porch right after Lacy gets back from the pond with Kyle. I would LOVE to give you spoilers...but I won't. I'll just tell you that Emmylou is hilarious and she had me laughing out loud (earning me the "are you crazy" look from my hubby). Those characters were so well written and I can't wait for their stories to come out!
Now let's talk about the other thing I loved about this novel--Kyle McClintock. Oh Kyle. I just loved him. And I loved how determined he was to patch things over with Lacy. More than once I found myself saying, "Oh come on, Lacy! Just give in to the man already!" But I understand where she was coming from and why she did what she did. The two of them together also had me cracking up and Kyle even earned a few "Awww's" from me.
If you enjoy reading romances with that are fun, sweet, sexy, and have a little suspense/action then you should definitely check this one out!
My Rating:
4 out of 5 stars