My "Crime Scene at Cardwell Ranch" by B.J. Daniels Review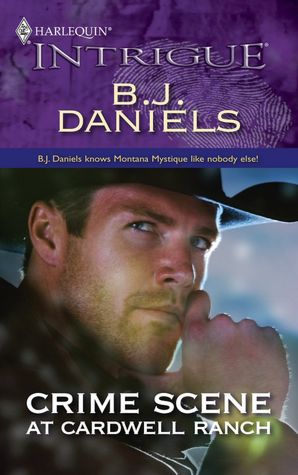 This was one of the first novels I downloaded when I first got my e-reader, and the main reason was because it was free:) I finally got around to reading it and I'm sure glad I did. We'll get to my review in just a second, but first let me tell you what it's about...
After Hudson Savage betrayed her, Dana Cardwell hoped never to lay eyes on the seductive cowboy again. Until a bunch of old bones showed up on her family ranch. Suddenly her former lover was back in her life in a big way—to investigate a decades-old crime.
Five years ago, Hud left town with a heart load of regrets. But now, as acting interim marshal, he had a job to do. And this time he wasn't walking away. Because now Dana's life was on the line—as the unsuspecting target of a killer who still walked the canyon. Hud would do whatever it took to keep Dana close. Even if it meant risking his own heart for a second chance for both of them....
This book was pretty interesting from the first few pages. During the prologue, we are given a glimpse into a murder and then chapter one begins seventeen years later when the remains of the body are discovered. The rest of the novel surrounds the investigation and is pretty much a "who done it"...sounds kind of boring when I put it that way but it's very entertaining. I loved trying to figure out which one of the suspects actually committed the crime and was blown away when the real killer actually surfaced. I remember getting to that part, piecing it together and I literally sucked in a breath of air and said "No way!". I love it when authors keep you guessing and then hit you with a surprise like that:) This book also had a little bit of romance in it between Dana and Hud. In the beginning of the novel, Dana wants nothing to do with him because he broke her heart five years ago. But Hud is determined to prove that the circumstances that tore them apart was a set up and win Dana's heart again. At first she is able to fight off his advances but when her life is targeted she finds that having Hud around to keep her safe isn't such a bad thing. The two of them make a great couple and I was glad to see the novel end the way it did:) Like I said above, I got this novel for free from Amazon but I would have gladly paid money for it. It was a very quick and easy read (I think I read it in a day) and very hard to put down once you get into it. I'm looking forward to reading more of B.J. Daniels work.