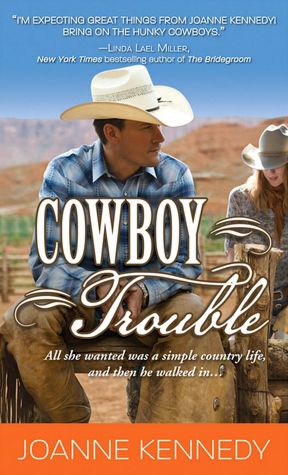 This is the first novel I had the pleasure of reading by Ms. Kennedy and it will not be the last. Here's what it's about:
A cowboy like that could break your heart...
Fleeing her latest love-life disaster, big city journalist Libby Brown's transition to rural living isn't going exactly as planned. Her childhood dream has always been to own a farm-but without the constant help of her charming, sexy cowboy neighbor, she'd never make it through her first Wyoming season.
But he could sure keep you warm at night, too...
Handsome rancher Luke Rawlins is impressed by this sassy, independent city girl. But he yearns to do more than help Libby out with her ranch. He's ready for love, and he wants to go the distance...
Then the two get embroiled in their tiny town's one and only crime story, and Libby discovers that their sizzling hot attraction is going to complicate her life in every way possible...
I really enjoyed this book and I have to say that it has one of the best opening sentence's I have ever read..."A chicken will never break your heart." I love it! This novel had a lot of mystery and suspense going on and I found that very entertaining. Libby uses her big city reporting skills to help solve a young womans disappearance, and just some of the situations she got herself in had me sitting on the edge of my seat. It kind of felt like I was watching a scary movie and I was telling her "Girl, don't you go in that room". I think the whole mystery/suspense part of the novel was written very well. The author also did a very good job at cracking me up multiple times throughout the novel. Luke's poor mother suffers from Alzheimer's, but instead of belittling her when she makes a mistake he tries to make light of the situation. There is one scene where he invites Libby (the new neighbor) over for dinner so his parents can meet her. They enter the dining room and Libby is surprised when she sees a salad bowl filled with rolled up socks in the center of the table and folded underwear set on each plate with a sprig of parsley and a cherry tomato. Luke is really cute about the whole thing explaining gently to his mother that they were in the mood for meatloaf and that they had underwear last night for dinner:) All in all it was a really good read and I'm looking forward to reading more from Ms. Kennedy.