My "My Give A Damn's Busted" by Carolyn Brown Review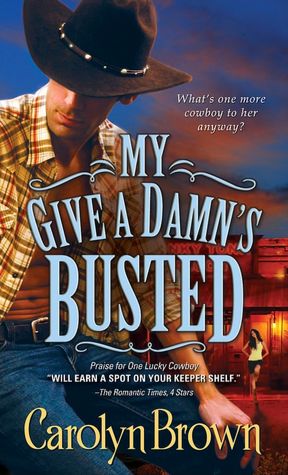 This is the third book in Ms. Brown's "Honky Tonk Series" and I gotta say, this one didn't reel me in like the first two did. This one also got on my nerves the most with the country music references (Jo Dee Messina's "My Give A Damn's Busted" is the running theme…as you can tell from the title). That being said, the rest of the book made up for it. I was hooked from the middle on and honestly didn't want to put it down. Here's what it's about:
Larissa Morley now owns the Honky Tonk and takes care of running the place. During an incident with a deer that runs her off the road she meets hunky cowboy Hank Wells. The two bicker back and forth for the first part of the novel, with Hank trying to get close to Larissa and Larissa not wanting to let herself fall for Hank. But just Larissa loses herself in Hanks arms, he drops a bomb on her that shatters her heart into a million pieces and has her cursing the day they met. However, Larissa is no angel herself and has her own little box of secrets that are sure to make his head spin.
So, like I said before this one didn't hold my interest really until I got to the middle. From that point on I had a really hard time putting it down because I just had to know what was going to happen next. I'm telling you, when I hit that middle part and Hank drops that bomb, whoa, my mouth literally popped open and I said (rather loudly) "What?!". I never saw it coming. So in conclusion, would I recommend this book? Yes, most certainly.