My "Honky Tonk Christmas" by Carolyn Brown Review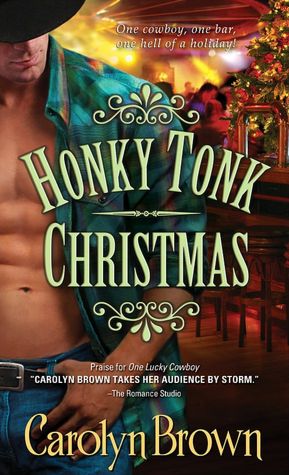 Sharlene Waverly now owns and runs the Honky Tonk. Along with being the owner and operator of the local beer joint, she is also a veteran of the United States Army and a successful romance novelist. Sharlene, like all the other women who owned the Honky Tonk before her, loves her beer joint and vows that no man will ever come between her and her place of business.
Enter Holt Jackson. Holt is a devoted single father of two, having inherited his sister's five year old twins after she was killed in an auto accident. He moves to Mingus after Sharlene hires him and his crew to build an extension on the Honky Tonk.
The two of them try like crazy to deny their feelings for one another but, with the help of two mischievious little kids, they're about to have one Christmas that they'll never forget.
This is the final book of Ms. Brown's "Honky Tonk" Series. Let me start off by saying that this novel took me a pretty long time to finish. Although I liked it, I didn't love it like I did the others. I think the reason behind that is that this one felt so repetitive. Sharlene seemed to explain all of the other owners stories so many times that I probably could have just read this book and knew exactly what happened in the other three without ever picking them up. I really liked Holt's character. It takes a brave man to take in five year old twins, and just reading him interact with them was very heartwarming. His interactions with Sharlene, although mischievous at times, were very sweet and made me like him even more. All in all I did like the book and it was a good read, but if you want my honest opinion I think Ms. Brown could have ended this series with the third book. Like I said before, it was just very repetitive and I guess that's what kind of made me just like the book and not love it.