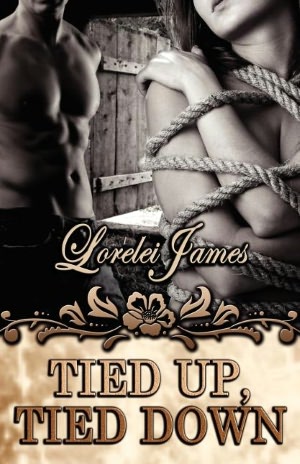 This is book #4 in Ms. James' Rough Riders series. Here's what it's about:
The strongest bonds are the ones unseen...
Rough Riders, Book 4
Businesswoman Skylar Ellison is firmly in control of her life. So getting tangled up with a sexy Wyoming cowboy—and conceiving a baby in the parking lot of a honky-tonk—wasn't in her plan. Since it appears the daddy has taken off for greener pastures, the only thing to do is pull up her bootstraps and carry on alone.
Cattle rancher Kade McKay returns home after a year on the range, and is knocked for a loop when he learns he's the father of a three-month-old baby girl. When Skylar refuses to marry him, Kade grits his teeth, moves in and plays house by her rules to prove he's a man in for the long haul.
Despite Skylar's insistence they are to remain strictly parenting partners, their old passions flare hot as a brush fire, spurring Kade to demand absolute sexual surrender from the headstrong woman. Skylar willingly submits her body to the hot-blooded cowboy but she's leery of handing Kade the reins to her heart.
Can Kade convince Skylar the wicked sex games aren't a temporary distraction? Or will he have to bust out the ropes to show her he wants to be tied to her...forever?
Warning: this book contains: no holes barred kinky sex scenes, wicked rope play, blunt language, and yowza! lots of hot cowboy nekkidness.
Like the first Rough Riders novel I read, I finished this one within a day of purchasing it. I don't know what it is about these books, but I just can't seem to put them down once I start them. I love how Kade is such a macho cowboy, but he also has this super sweet side that just made me melt. I am a sucker for a guy who is good with babies, and although Kade really isn't great at first he puts in an honest effort which made me like him even more. There is one seen that was so cute and funny at the same time. It's right after he finds out he's a father and it involves him practicing his baby holding skills with a sack of potatoes wrapped in a baby blanket. Loved it:) I really liked Skylar as well, but found myself saying "Girl, what's the matter with you?" throughout most of the novel, lol. Skylar has some trust issues due to certain things from the past, and she has a hard time letting down her guard with Kade (and other people in her life). Completely understandable. But, Kade works to earn her trust and soon she not only surrenders her body, but her heart as well.
I would definitely read this book again and recommend it to anyone who enjoys a good romance...
That is if you don't mind all the graphic stuff:)